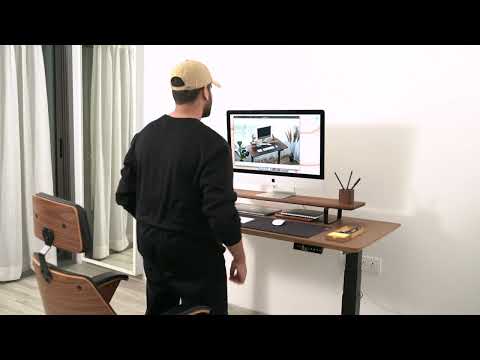 Standing Desk – Solid Walnut
Enhance your office setup ergonomically with Oakywood's Standing Desk in Solid Walnut. Alternate between sitting and standing throughout the day, thanks to the 4 customisable heights. This sophisticated sitting-and-standing desk not only adds a statement to your home or office, it also increases your health and creativity. Available in three sizes.
Shipped in 3 - 4 weeks
XL package
This product plants
40.55
trees with Trees for the Future
Premium wood adjustable desk
Excel in work and skyrocket your creativity to a whole new level with the Standing Desk in Solid Walnut from Oakywood. Whether you're working from home or at the office, an ergonomic desk setup is essential. Did you know that alternating between sitting and standing allows your brain to generate 2.5 more creative ideas? Investing in this standing desk converter therefore means investing in yourself, your performance at work and your physical well-being. This smart table has 4 programmable presets for easy and personal use. The ergonomic (home) office station consists of an American Walnut wooden tabletop with bevelled edges and sturdy powder-coated steel legs. Thanks to the dual desk motor, transition between levels go smoothly and quietly. Oakywood handcrafts each table with love, and always finishes with natural oils and waxes for the ultimate protection. Thanks to this regime, the wood forms a comfortable surface for your hands and arms.
Customize your own desk
Are you not satisfied with the standard dimensions? No worries! Contact us at [email protected] stating the desired dimensions, tabletop finish and shipping address. Choose among solid or veneer walnut or oak. Length ranges from 120-200 cm and width from 60 to 100 cm.
The Standing Desk contributes to an ergonomic office setup
Dual desk motor (110-230V) offers a quiet transition between levels
4 customisable heights & automatic anti-collision system
Handcrafted with solid oak wood & powder-coated steel
Allows up to a 70kg load!
Available in 120×60, 140×70 and 160×80 cm
Specifications
Material: Solid Walnut wood and Powder-coated Steel
Dimensions table top: 120×60 – 140×70 – 160×80 cm (2.7 cm thick)
Height: Min. 62.5 cm, max 130 cm
Made in: Poland
| | |
| --- | --- |
| Dimensions | N/A |
| Brand | Oakywood |
| Size | 120 x 60 cm, 140 x 70 cm, 160 x 80 cm |
| Material | Powder-coated Steel |
| Wood | Walnut |
| Leg colour | Black, White |
Oakywood is a small, family owned wood-working business located in Podhale, Poland. They craft unique wooden tech accessories for home and office only using sustainable FSC® certified wood from Europe and the US. These highly functional accessories are finished with natural oils for a gorgeous, long-lasting finish.
Get Inspired | #WoodenAtHome